Stay on top of your chores
Homey app is for families who are dissatisfied with using paper charts and sticky notes on their fridge for organizing and assigning chores and tracking their progress. Unlike inconvenient paper based chore-charts and DIY organizers that demand a lot of effort to manage, communicate and enforce tasks, Homey reaches family members instantly, empowers them with how-to tips and motivates them with gamification based rewards.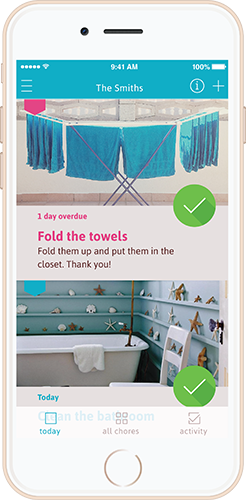 A mobile chore chart for your family
Homey App lets you assign chores by taking a snapshot. It's easy, quick and efficient! Everyone loves photos and they quickly convey what needs to be done. To assign a chore to your family member just take a photo of what needs to be done and select one or more of your family members. They will get a notification with a photo of the mess and when they will clean it, they will take another photo, so you will see the results immediately. Images will help children make a visual association of the task with the action, but they will also provide everyone in your family with motivation to do chores better, since they will know they will be taking a picture of it later.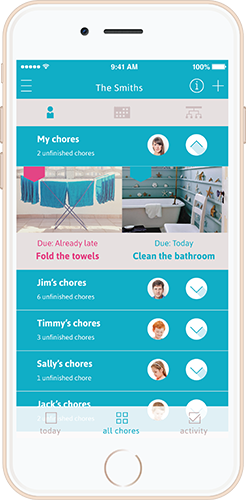 Motivate your children to do their chores by providing them with incentives! With Homey, parents can set whichever rewards they want: allowance, screen time, or even a new toy or gadget. Since these rewards can range in value, children learn to practice delayed gratification when choosing to decline smaller rewards and work towards more valuable ones. Since kids can see the progress bar that tells them where they are in terms of earning a reward, they learn to manage their funds and stay motivated and engaged in working towards long term goals. Homey also features a wishlist so children can practice setting goals for themselves and learn the value of their work.

See how everything gets done
You will never again have to double check if the chores are really made after everything on the chore board has been checked off. Homey App shows you what goes on in your home, even if you are not there to see it. You can see if all the chores have been completed and if you decide you do not like what you see, you can reset the chores that need repeating. Each chore has its own history too, so you can see who is doing what and when. This means no more arguments about who does the dishes every day and who always forgets them. After all, a picture is worth a thousand words!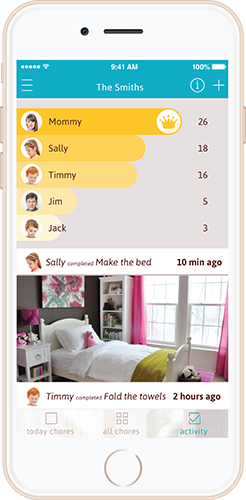 Notifications and reminders for chores


Daily, Weeky and Monthly repeating chores

One App for Parents and Kids
Statistics and Points-based Gamification