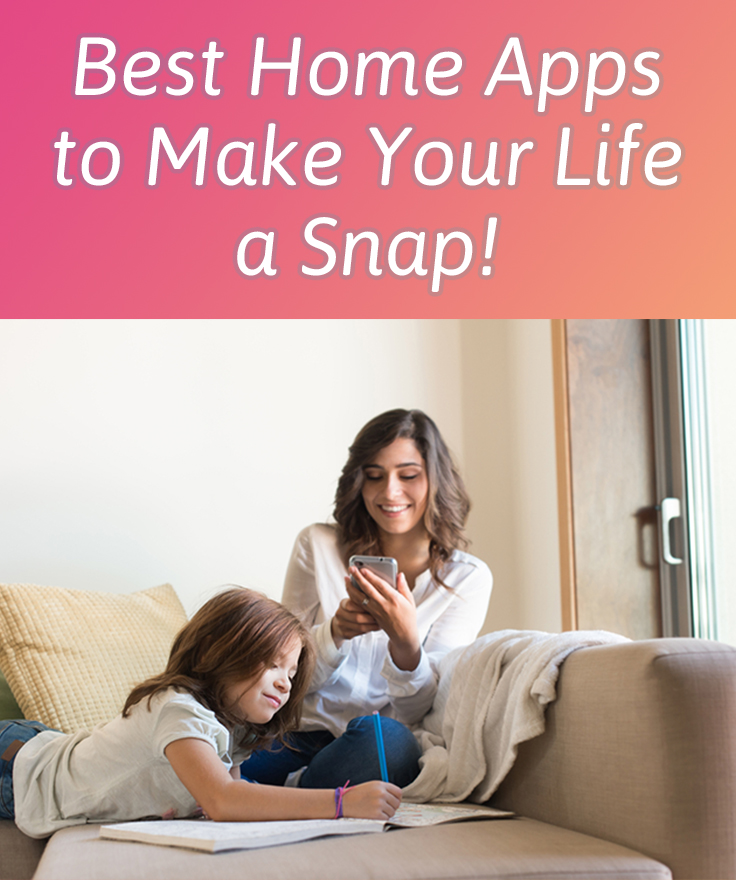 There is an app for virtually everything today, including improving your home life! There are many apps designed with the intention to help you at home. However, most end up being either distractions or unused, and just take up space on your device.
With so many to choose from, it can be difficult to decide which are worth downloading. Here are some cutting-edge home apps that outshine their competitors.
Home Tips
Bright Nest is a lifestyle app that provides helpful tips and information for all areas of the home. Whether you are looking for recycling information, creative projects, recipes, health and safety information, or even money saving tips, there is something for you! You can create an account to begin personalizing your content and saving articles you like. The bright and inviting design layout gives you all the information you need without being overwhelming.
At the top of the app, you will find a home quiz that is typically answered with a yes or no. For example, it may ask 'Do you own a fireplace?' as a question. If you answer yes, you will be suggested content related to fireplace maintenance. If not, it is okay because it will ask more questions to get a better feel of which areas you may need help in. Each article is categorized into subjects such as cleaning, handy, or green to give you an idea of what type of information you'll find. They also provide an estimate of the amount of time it will take to complete the task, along with a difficulty level. Another great feature is the ability to schedule a task for a later date and check off when it has been done. With regular use of this app, homeowners can maintain a home that will amaze anyone who enters it.
Home Security
Any homeowner, especially those with families, will have concerns about the safety of their home. Luckily, there are apps available which can help give you peace of mind. There are many home surveillance and security apps to choose from. You can even sync the app with your already owned home security package. Being able to view and remotely access your home security will ease any worries you may have while away.
ADT is an example of a company with a home security package that you can link to their app.
The app allows you to manage your account from which ever device is most convenient to you. You can access your bill to make payments, view emergency contacts, test the system and more, all through the app! Looking for a guide to getting started with home security? Check out this list!
Food and Dining
The variety of apps for food and delivery has been growing rapidly. There are apps like Grub Hub which can find restaurants near you and allow you to order right through the app! Apps for fast food restaurants are especially on the rise. These apps are great because they allow you to order ahead of time and skip the wait at the store when picking up. Many fast food apps even give you a free item just for signing up. Food apps take the hassle out of dinnertime by narrowing down food choices, reducing time at checkout, or even saving you a trip entirely! Any family, large or small, can stand to improve mealtimes with the help of a food app.
Productivity
Chore charts on the fridge often go unnoticed in today's busy world. There's a number of apps for chore management, based on your preference. Some are more appropriate for single child families, some for younger kids, some incorporate positive reinforcement systems like rewards, and some teach the basics of financial management along with good habits as well. Homey is an app that gets your whole family on board (yes, even your spouse), and its wide selection of roles and permissions makes the app work for younger kids and older teens at the same time. You can manage everyone's household chores, responsibilities, jobs and even allowance and rewards for kids – or yourself!
Incorporating apps into your daily routine can be an important step to a more organized and practical life. The key is to find the right ones and use them only when you need to. Using the right combination of apps can help you to build positive habits that carry over into your life outside of app usage!
Tags: apps, family apps, home apps