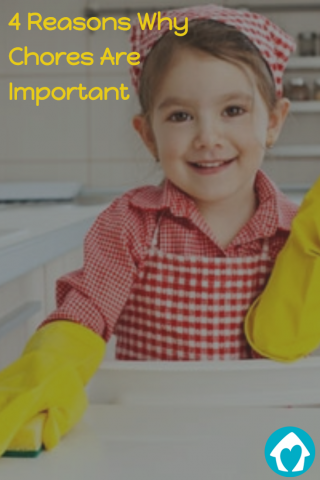 Do your kids help around the house? I've heard that some kids take on chores voluntarily (if that is your case, please share your secrets!), but many parents feel that children are either too busy for chores or maybe too sloppy to do them properly. Some parents just don't feel it is worth the effort because assigning chores to kids often leads to family conflicts. So why should you insist on chores for everyone?
Chores help kids learn responsibility
Having a routine for chores, a chore chart or just a general consensus, about who has to do what in the house and following it through will assure you that your child will get the meaning of due dates, agreements and obligations. If you wish to raise an accountable adult, onto which people can rely on, chores seem like a good way to go. To see which chores are appropriate for your children, check out this wonderful printable by The Happy Housewife blog.
Chores are a great way towards independency
You would be surprised how many young adults struggle with basic household tasks when they first move away from home. It's really no wonder college dorms often look like a tornado went through. Housework is also often a source of conflict among young couples starting to live together. If you don't want to worry how your child will cope when he moves away – chores are your answer.
Chores help kids feel like a part of a family
Personally, I value this part of chores the most. We all need to feel needed and to know that we're making a contribution – even kids – and sharing the responsibility for housework is a great way to do that. We always do more thorough cleaning together – it's usually done Friday afternoon, so we can enjoy the weekend in a tidy home – everyone knows what to do, we blast some music, we laugh, we're done in about an hour and then we can enjoy the evening knowing we've done something together!
You won't be a slave in your home
This one is kind of a no brainer. But it still surprises me when I hear about mothers cleaning their teenage kids' room. These are young and capable people that have made a mess out of their rooms. It's completely their mess, so why should you be responsible for that? The modern family blog has a wonderful post about why doing everything for your kids does more harm than good, so don't feel bad about sharing the load.