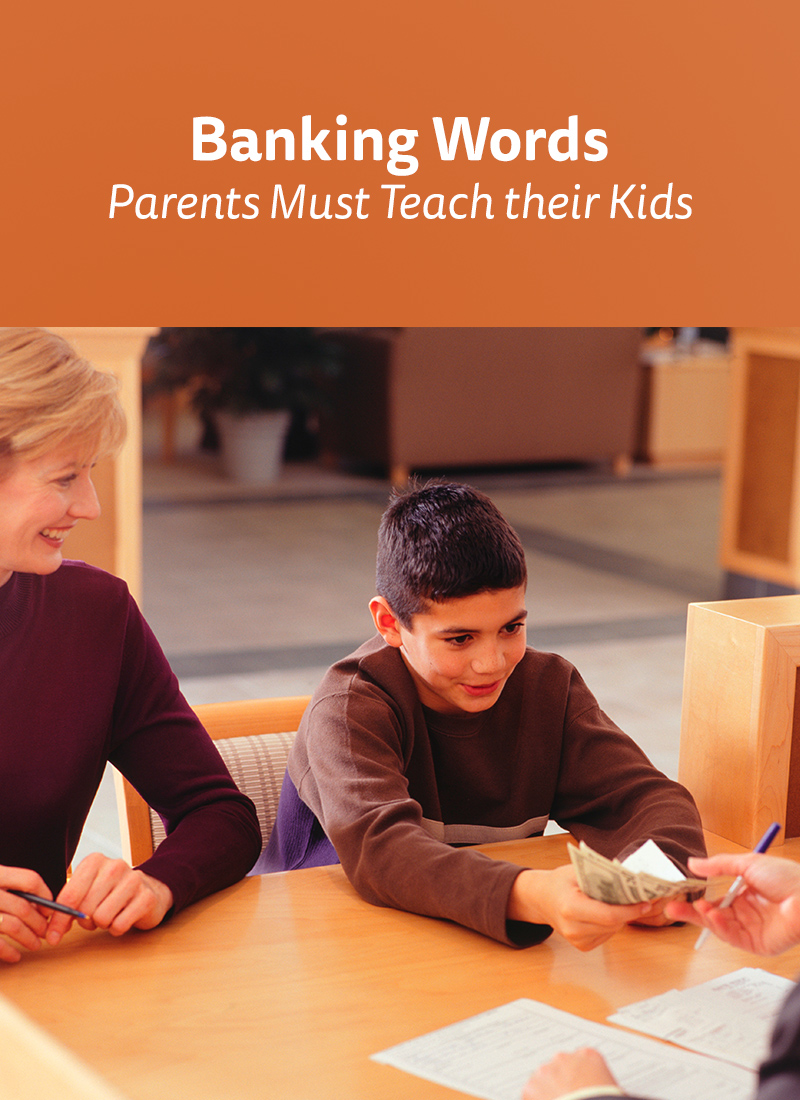 One subject that can impact your kids' life well into adulthood is financial education. Most school systems don't teach any financial skills, but parents should.
You can start by teaching your kids banking words so that they grow up to have a well-developed education in finance and understanding of what is going on with their money.  You can practice them with your kids by having a relaxed conversation with your kids when they accompany you to the bank.
Here are some basic banking words that are often used in everyday life, so your kids should soon get a chance to hear them or even use them.
Budget
The term budget pertains to knowing how much money you earn versus how much money you need. This is a banking word that can be taught as early as age 8 in most households. Kids must learn how to properly budget money in order to learn the next banking word.
Savings
Now that you have worked to teach kids about budget, how to manage the money that they earn, you can teach them about savings. Kids can easily be taught to save by having parents require a specific percent of earnings be placed into a piggy bank or savings account – a good way to do that is by using Homey app that connects to your child's savings account.
Bank Account
As your kids get older they may have a savings account, since most checking accounts require you to be of legal adult age. Set up your kid with a bank account and teach them about their bank account having their name on it, show them a savings statement and teach them how to read the statement.
Transaction
Kids should know that a transaction refers to something that will change the balance in their bank account. A transaction can be a deposit of money into their bank account or a withdrawal from their bank account. Kids must learn the budgeting and savings terms to make good decisions with money.
Interest
Some savings accounts will allow kids to earn a small percent of interest. Interest accumulates based on the daily balance of a savings account. Usually the minimum requirement is a $100 balance. Kids must learn how much money to have in their bank account to earn said interest. With older kids you can even practice calculating how much more money they'll have after a year of saving with monthly interests!
Credit Score
Last, but certainly not least parents must teach their kids about credit. A credit score will ultimately determine how much your kids can build in their adult life. Buying a home, buying a car and even renting an apartment will be based upon a credit score. Teach kids about credit scores and the importance of it!
There you have it a list of banking words parents must teach their kids as a means to help guide them into financial success as an adult. It's on parents to educate and teach beyond what the school systems teach, for most kids learn best with the hands on approach to education. Start working with these banking words today so that your kids will have a deeper level of comprehension when it comes to finances.