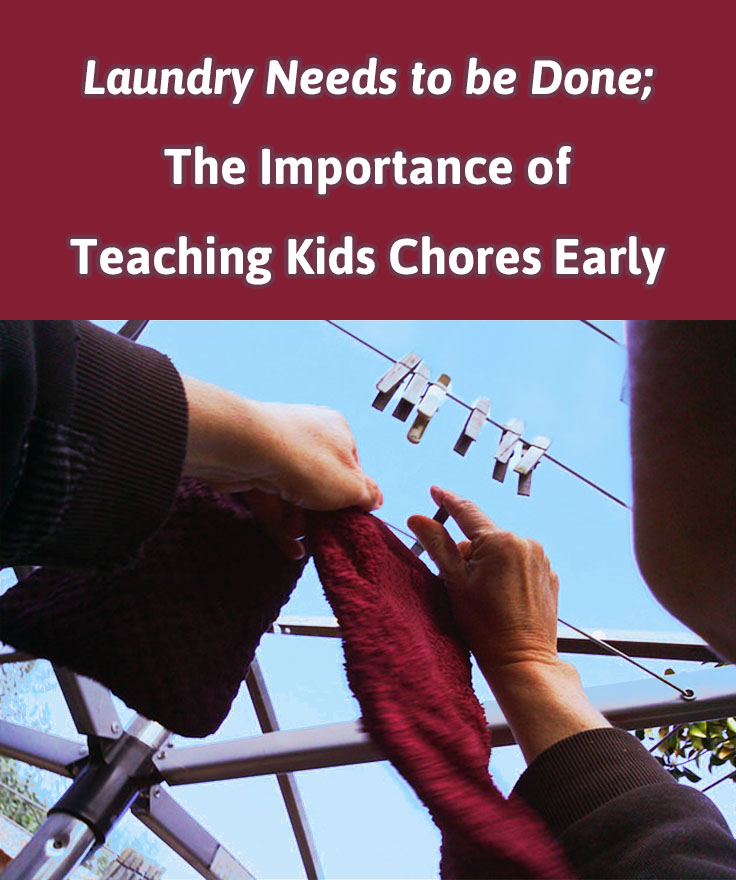 Many people don't realize the amount of work it takes for a household to run efficiently. It takes teamwork. Expecting one person, such as mom, to do everything, is unrealistic. It is vital to teach kids the importance of doing chores early on. You don't want them to grow up being dependent upon someone to take care of them. It teaches responsibility and giving back to others.
By not teaching kids early on in life how to do chores, it sets them up to have a limited ability to function. They won't be able to relate to kids their own age. This can cause isolation, embarrassment, and can even lead to depression.
How Can I Teach My Child To Do Chores?
Take small steps in teaching children how to do chores for themselves. They can start by putting their own toys away each day. When they reach an appropriate age, you can start teaching them to use the household appliances, such as the washing machine, in order to get chores done. These days, appliances are easy to use and can go a long way in helping children learn to care for themselves. It is a way to teach the kids to get laundry done quickly and efficiently.
What Will Chores Teach Them?
By learning to do chores at an early age, kids will soon learn the value of hard work. They will get along easier with others if they can appropriately take care of themselves. They will learn to appreciate more. Imagine the following scenario:
You have an 8-year-old child who is not responsible for any chores at home. Your child goes to a friends house after the two children were outside playing. His friend's mother had just cleaned the kitchen. Your child, who has muddy hands, touches everything in sight, from the refrigerator to the counter, leaving muddy handprints all over.
Imagine how angry his friend's mother is going to be, and rightfully so. Not only is this disrespectful, but it creates extra work for another person.
If your child were responsible for cleaning up after himself at home, he most likely would have thought twice before leaving mud behind in a friend's clean home. This is because he would have already known the value of hard work, and he would know how to be more respectful of someone who had just completed an important task.
Conclusion
Kids need to learn to be self-sufficient and care for themselves. By not assigning your child any chores to do around the house, you are setting them up to rely on others to do simple, everyday tasks for them. Create a list of chores that your child needs to do every day, and make it a part of their routine.
Tags: chores, parenting