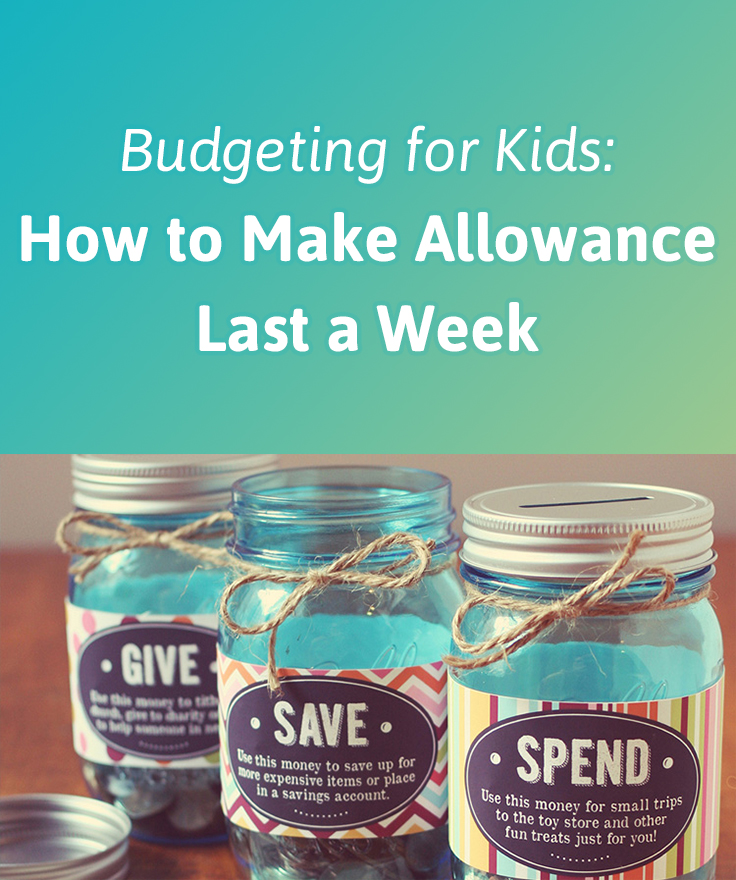 While there is much debate about paying kids an allowance, there are many benefits to implementing it. Paying kids some form of an allowance during their childhood is an easy way to teach them some budgeting skills. As most parents know, lessons instilled during childhood can go a long way into adulthood, allowing your child to grow up being able to manage money more efficiently.
If you are someone who pays their children allowance on a weekly basis and finds that kids are blowing their cash way too quickly, then read on for some tips on how to teach kids to budget their allowance so that it lasts all week long.

Require Savings
Require a rule where the kids have to set aside a specific amount to save with each allowance payment. This money can be placed within a piggy bank or savings account. Depending upon how much allowance your kids earn, will determine your rate of savings requirement. Teach them to put this money away and forget it exists so that they start to build up a savings towards larger items they desire to purchase later.

Work through Want vs Need
We already wrote on how to teach your kids a want vs a need, now is the time to start implementing those strategies to ensure your kids learn how to budget their allowance. Have your kids work to plan on what they have for desires, such as a big ticket item that they want to save towards. Work with your kids to have them make a list of wants and needs, guide them towards using immediate funds on needs and saving money for the wants.
Teach Concept of Time
Many kids have a difficult time with comprehending the concept of time. This means a half hour to us adults may not seem like a half hour to kids. Kids often see time less than we do, that means a half hour to kids could feel like an hour or two. Teach your kids about time as it pertains to weekly allowance. Use a worksheet to show them how much money they would have to spend daily by taking the total allowance and dividing it down by 7 days. This teaches your kids to budget what they have on a daily basis to ensure the allowance lasts all week long.
Teaching kids how to budget their allowance will go a long way and they will utilize these skills when they get a job of their own. If you start now, when the kids are young, teaching them how to make a small allowance last a full week, they will be more apt to be financial savvy adults when raising their own kids and handling their own family household budget.
---
About the Author – Brandy Ellen Tanner is a Positive Lifestyle blogger who works from home while raising her 3 children. Learn more about Brandy at BrandyEllen.com and read her other parenting articles at ParentInfluence.com.
---
Tags: allowance, financial literacy